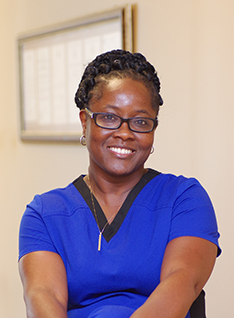 W. T. Keloh, RN, BSN
Program Administrator
Mrs. Keloh was born in Monrovia, Liberia (west Africa) in 1972. She attended Cathedral Catholic High School and graduated in 1990-1992 due to the civil war. She attended the University of Liberia for her freshman year and move to Columbus, Ohio in 1998 December to be with her family. She attended Technology Education College where she graduated with an Associate degree in Medical Assistant. She works at Urban Pediatrics, Nationwide Children Hospital, and Primary One until 2010 when she started for Licensed Practical Nursing at Hondros College of Nursing. There she completed her Bachelor of Science degree in nursing in March 2015 and enrolled at Chamberlain College of Nursing to complete her Masters in Nursing Education December 2017.
Over the years she has work as a Medical Surgical Nurse in Long term care, Acute care, Home health care, Patient Care coordinator (Case Manager), Traveling Nurse and Faculty at Hondros college of Nursing. She loves to motivate, encourage and build new nurses. Her passion is helping student with English as second Language succeed in the NCLEX exam.  She is presently the Laboratory/ Simulation Coordinator at Felbry College of Nursing.
She is hoping to complete a doctorate of Education within the next 5 years and continue to impact knowledge to nursing students.